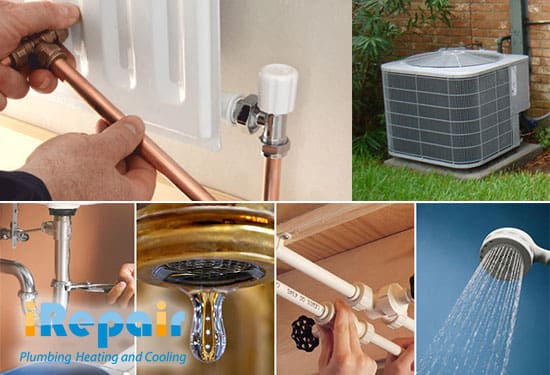 Taking plumbing services to the next level with Irepair East Hanover NJ
To save you the hustles and the tussle of the work around Plumbing, Heating and Cooling, Service, Repair and Installation Irepair East Hanover NJ are out to bring the whole problem to an end. At Irepair our customers come first, and they are treated as the Kings or the Queens of the business.
The problems around residential or business premises is now a matter to worry less about. With qualified and experienced staff in our company in different areas, we ensure that we deliver the best to all and promptly. Don't let your business come to a standstill because of plumbing problem and later count losses. We are bridging the gap and plumbing, and other services or issues are dealt with once and for all.
Matters that will lead to services on Plumbing Heating and cooling can be caused by different problems. Are you in cold season within your area and everything is freezing, Water pipes are now taking the significant effect leading to leaking of pipes. This has been a disaster in homes or business especially in an area which experiences extreme lower temperature change. Causing pipes to burst and disrupt the operation in the environment. With quick and timely response from our team, it has been of help to many of our customers.
We also extend our water heater services to ensure your daily plans are not disrupted. If you have any challenge with your water heating system never hesitate to contact us. Furnace and boiler services are also offered under our umbrella.
We are offering high-quality services that have given as good feedback and reports. Our services are not meant to take money from customers only, but to excite, ensure the returns and exemplary nature of the work. Don't sit and worry about what to do next, when faced with the challenge that requires Plumbing Heating and Cooling, Service, and hot water services just contact us.
The technicians working with us are also flexible for frequent monitoring of the site. Do not wait until the trouble of leaking pipes is seen in your business or residence. You can take an earlier precondition and contact us to give frequent checks to your drainage piping, Heating and cooling services and all matters surrounding the drainage of your business or home is kept safe.  
To ensure that you remain comfortable in your daily operation our team offers additional services including quality air conditioning services. We work with your company or office to provide the flow of air is not disrupted. With the diversified knowledge of our technicians, they can advise and give the best services.
We are happy to serve and to give the best services you deserve.